Roadkill Gems
Regular price
$285.00 USD
Regular price
Sale price
$285.00 USD
Unit price
per
Sale
Sold out
This listing is a Made-to-Order, see drop down below. 
---
Original Roadkill Gems design! This handmade Sterling Silver pendant features Green Aventurine with a Classic bail and Mountain stamping. Keep your favorite essential oils or perfumes close to you. 

Highlights:

Each Rollerball necklace undergoes 7 stages of polishing
2ml vial holds about 20 drops of essential oils

 

Pendant is paired with a 22" solid Sterling Silver chain(optional sizes upon request)

 
Natural and unearthed, this stone derives from Brazil. Known as the "Stone of Opportunity," Green Aventurine's winning energy makes it a great ally for boosting one's chances in any situation. This crystal carries a strong connection to Earth, providing a better understanding and appreciation of nature and its soothing vibrations upon the mind and body.
C R Y S T A L

   

P R O P E R T I E S

 
Green Aventurine
Chakra(s): Heart, spleen
Crystal System: Trigonal
Chemistry: SiO₂ Silicon dioxide
Energy Vibration: 3
Hardness: 7
Source: Italy, Brazil, China, India, Russia, Tibet, Nepal
Zodiac: Aries
Planet: Mercury
Element: Air 
O I L

 

B L E N D S
Aries Blend ♈️
40% Lemon, 40% Lemon Myrtle, 10% Basil, and 10% Peppermint
The synergistic effects of the Aries Sign Blend promote clear direction and forward movement while harmonizing with others to support the independent and free spirited nature of those who are born with Aries Sun, Moon, or Ascendant. Diffusing this cleaning and detoxifying blend in the mornings is the perfect way to start your day or enhance your exercise routine.
Lemon + Lemon Myrtle - This oil is emotionally uplifting and clarifying for the mind to give your Aries Sun, Moon, or Ascendant clear direction for the future
Basil - Releases tension from the head, neck, and shoulders, common areas for your Aries Sun, Moon, or Ascendant. The unique properties of this oil allow it simulate the mind and relax the muscles simultaneously
Peppermint - This oil is high phenols, which cleanse and activate the cellular receptor sites to allow nutrients and hormones enter the cells. Aries often craves cleansing on an emotional and physical level, and this blend triggers cleansing by starting with the individual cells

 

 
D I S C L A I M E R
No two natural crystals are identical, it is common for crystal points to have imperfections, not limited to cracks or inclusions. Crystals take millions of years to form, between the earth shifting and earthquakes impurities are bound to happen. 
Bottom line: Crystals aren't perfect and that's why we love them 💎
M A D E - T O - O R D E R 
Please allow 4 to 6 weeks for me to recreate this beautiful piece for you.
Note: Green Aventurine will vary from the listing photo in size, shape, and color. Nonetheless you will receive a crystal and stone that resembles the listing. 
Expected ship date: 3/24 - 4/7.
Share
View full details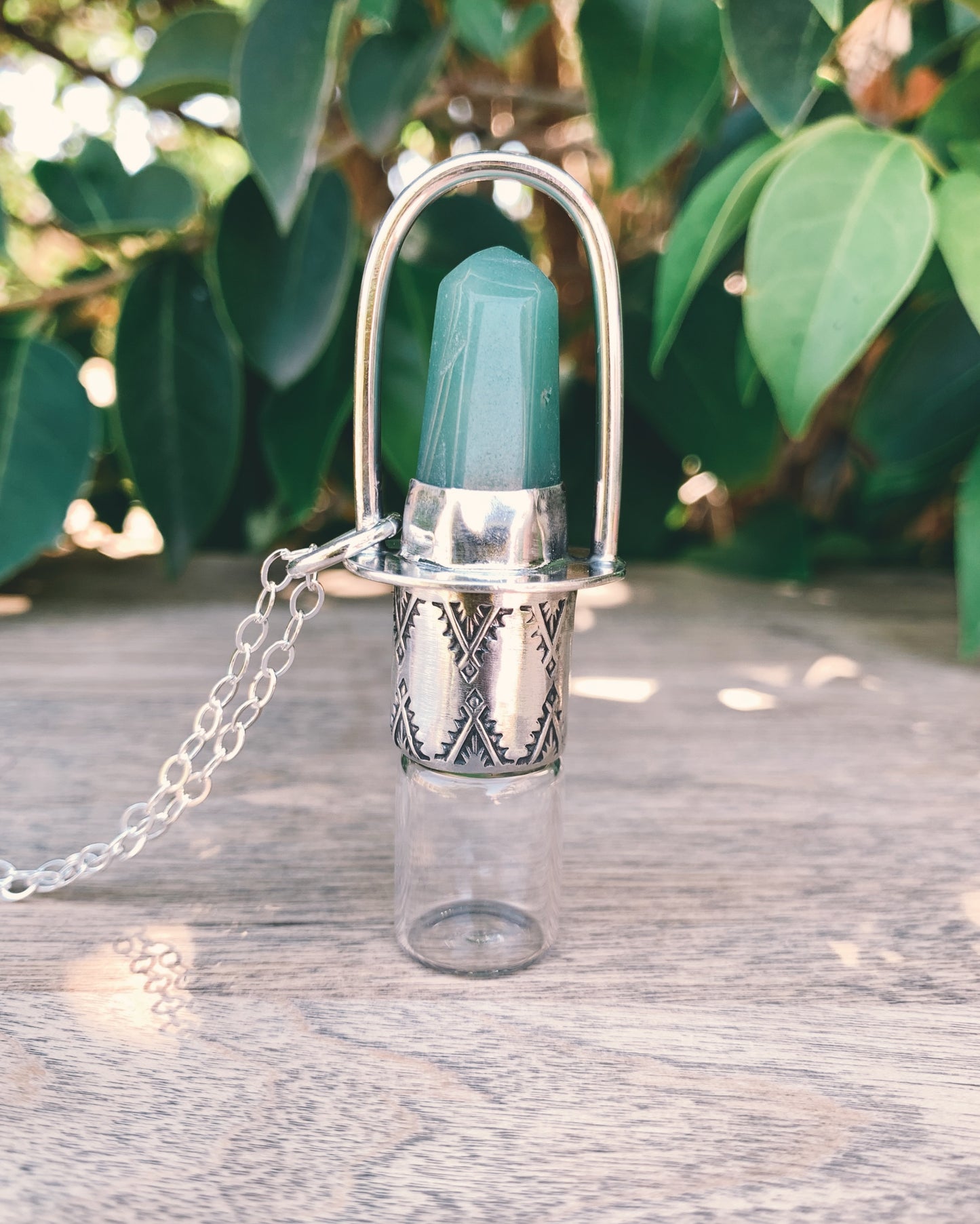 #totallyworththewait
I am so in love! I started chemo 6 weeks ago and really manifested a silver roller to have as a new talisman. She is everything! Thank you!