Roadkill Gems
Regular price
$380.00 USD
Regular price
Sale price
$380.00 USD
Unit price
per
Sale
Sold out
Original Roadkill Gems design! This Sterling Silver handmade pendant features a calming duo of natural Amphibole Quartz + Citrine, with a twisted Classic bail. Keep your favorite essential oils or perfume close to you. 

Highlights:

Double Stone
Each Rollerball necklace undergoes 7 stages of polishing
2ml vial holds about 20 drops of essential oils
Pendant is paired with a 22" Sterling Silver chain(optional sizes upon request) 


Natural and unearthed, this stone derives from Brazil. Also known as Angel Phantom Quartz, Amphibole Quartz provides connection to the highest level of spiritual experience, calling in your guardian angel, spirit guides, and higher beings. Use this crystal while meditating to keep centered to receive insights and guidance.
Powered by the Sun, Citrine warms, cleanses, and energizes. Highly protective, Citrine makes a great tool for transmuting negative energy. Considered to be a crystal that represents the manifestation of one's desires, It is symbolic of the energy which resides in sunlight to help create new life.

C R Y S T A L

 

P R O P E R T I E S
Amphibole
Chakra(s): Third Eye, Crown and Higher Crown
Energy Vibration: 6, 7, 9, and 1
Zodiac: Aries, Aquarius, Pisces, and Virgo
Planet: Moon
Element: Air
Citrine

Chemistry: Si0₂ Silicon dioxide 
Source: Brazil, Russia, France Madagascar, UK, USA
Energy Vibration: 6
Hardness: 7
Zodiac: Aries, Gemini, Leo and Libra
Planet: Jupiter
Element: Fire 
O I L   B L E N D S
Aries Blend(Amphibole & Citrine):
40% Lemon, 40% Lemon Myrtle, 10% Basil, and 10% Peppermint
The synergistic effects of the Aries Sign Blend promote clear direction and forward movement while harmonizing with others to support the independent and free spirited nature of those who are born with Aries Sun, Moon, or Ascendant. Diffusing this cleaning and detoxifying blend in the mornings is the perfect way to start your day or enhance your exercise routine.
Lemon + Lemon Myrtle - This oil is emotionally uplifting and clarifying for the mind to give your Aries Sun, Moon, or Ascendant clear direction for the future
Basil - Releases tension from the head, neck, and shoulders, common areas for your Aries Sun, Moon, or Ascendant. The unique properties of this oil allow it simulate the mind and relax the muscles simultaneously
Peppermint - This oil is high phenols, which cleanse and activate the cellular receptor sites to allow nutrients and hormones enter the cells. Aries often craves cleansing on an emotional and physical level, and this blend triggers cleansing by starting with the individual cells
Aquarius Blend(Amphibole):
30% Lavender, 30% Marjoram, 20% Rosemary, and 20% Wintergreen
This combination balances the stimulating properties of rosemary and wintergreen with the relaxing qualities of lavender and marjoram to create an energizing and grounding blend useful anytime during the day.

Lavender - Clams the minds and promotes feelings of unconditional love
Marjoram - Promotes happiness and going with the flow
Rosemary - Releases old negative patterns to allow for new ideas and habits to form
Wintergreen - Stimulates the minds and provides mental endurance to stick with long-term goals
Jasmine - Provides your Scorpio Sun, Moon, or Ascendant to open up and process the deep, and sometimes dark, feelings to transform and evolve your soul
Pisces Blend(Amphibole):
40% Fennel, 40% Orange, 10% Rosemary, and 10% Celery Seed
Together these oils support optimal liver health to both release stored toxins and prevent imbalances from arising when exposed to environmental, personal, and emotional toxins in the future.

Fennel - Supports the digestive system
Orange - Of all citrus oils, orange has the strongest harmonizing properties to help your sensitive Pisces Sun, Moon, or Ascendant adapt to every environment
Rosemary - This oils works best in small amounts to provide Pisces with a layer of protection and encouragement to leave behind people and attitudes that are not in alignment with your highest good and connection to your source
Celery Seed - Offers relaxing properties to help calm your Pisces Sun, Moon, or Ascendant sensitivities and promote restful sleep and peaceful dreams
Virgo Blend(Amphibole):
30% Marjoram, 30% Copaiba, 20% Lavender, and 20% Lemon
Virgo Sign Blend uses essential oils that can adapt their therapeutic properties, reflecting Virgo's mutable nature
Majoram - Supports muscle tone and strength. Also provides raw materials to help your Virgo Sun, Moon, or Ascendant get through full schedules and busy workdays
Copaiba - Boots energy levels and concentration by supporting healthy cortisol output. This oil encourages your Virgo Sun, Moon, or Ascendant to complete projects and make adjustments as needed
Lavender - Supports Virgo's adaptogenic nature and its ability to handle every situation the user is presented with
Lemon - Cleanses those with aspects of life that do not serve your highest good
Gemini Blend ♊️(Citrine):
30% Lemon, 30% Copaiba, 30% Patchouli, and 10% Peppermint
The balancing nature of this blend effectively supports the duality of the sign of Gemini. The grounding effects of Copaiba and Patchouli and uplifting qualities of Lemon and Peppermint support Gemini's simultaneous need for stimulation and focus. Copaiba and peppermint are stimulating and cortisol boosting, while Patchouli and Lemon are relaxing and grounding.
Lemon - Uplifting and releases stagnation both physically and emotionally
Copaiba - Has stimulating and grounding properties and gives stable energy to fuel the need for stimulation and activity
Patchouli - Calms the nervous and digestive system, supports the occasional nervous stomach. This oil creates an energetic barrier to negativity in the environment, supporting emotional security
Peppermint - This oil is cooling, while it releases the build-up of heated thoughts that occur when Gemini feels stuck emotionally


Leo Blend ♌️(Citrine):
40% Marjoram, 40% Cypress, 10% Neroli, and 10% Helichrysum
This blend supports the heart organ, energize the muscles, benefit the cardiovascular system, and calm the nervous system. If you are a Leo Sun, Moon, or Ascendant, you may have natural leadership and networking abilities that this blend highlights.
Marjoram - This oil encourages your Leo Sun, Moon, or Ascendant to relax and enjoy your life while experiencing your soul's journey
Cypress - Release blockages to help clear the way for Leo's and create a feeling of security all year
Neroli - Enhances emotional connection and physical action. Neroli fosters Leo's connection to the sun when their source energy feels depleted
Helichrysum - Uplifts your subconscious to rise above barriers that are holding you back from expressing your soul's essence in this lifetime
Libra Blend ♎️(Citrine):
25% ylang ylang, 25% Geranium, 25% Clary Sage, and 25% Blue Spruce
It is the only astrology blend that has equal parts of each oil. The combination of these four oils, in equal parts, perfectly balance each other to help Libra find balance in every aspect of their lives

ylang ylang - This oil's adaptogenic properties guide this blend to create balance between the male and female hormones for any person at any age
Geranium - Has harmonizing properties to encourage proper blood flow, healthy live function, and health bladder function. This oil can help your Libra Sun, Moon, or Ascendant to know which people to let in your inner circle
Clary sage - Encourages the parasympathetic nervous system to relax and promotes restful sleep
Blue Spruce - Balances the female hormone properties of the Geranium and Clary sage in this blend. This oil can help your Libra Sun, Moon, or Ascendant overcome the tendency to indecision and inaction
D I S C L A I M E R
No two natural crystals are identical, it is common for crystal points to have imperfections, not limited to cracks or inclusions. Crystals take millions of years to form, between the earth shifting and earthquakes impurities are bound to happen.
Bottom line: Crystals aren't perfect and that's why we love them 💎
Share
View full details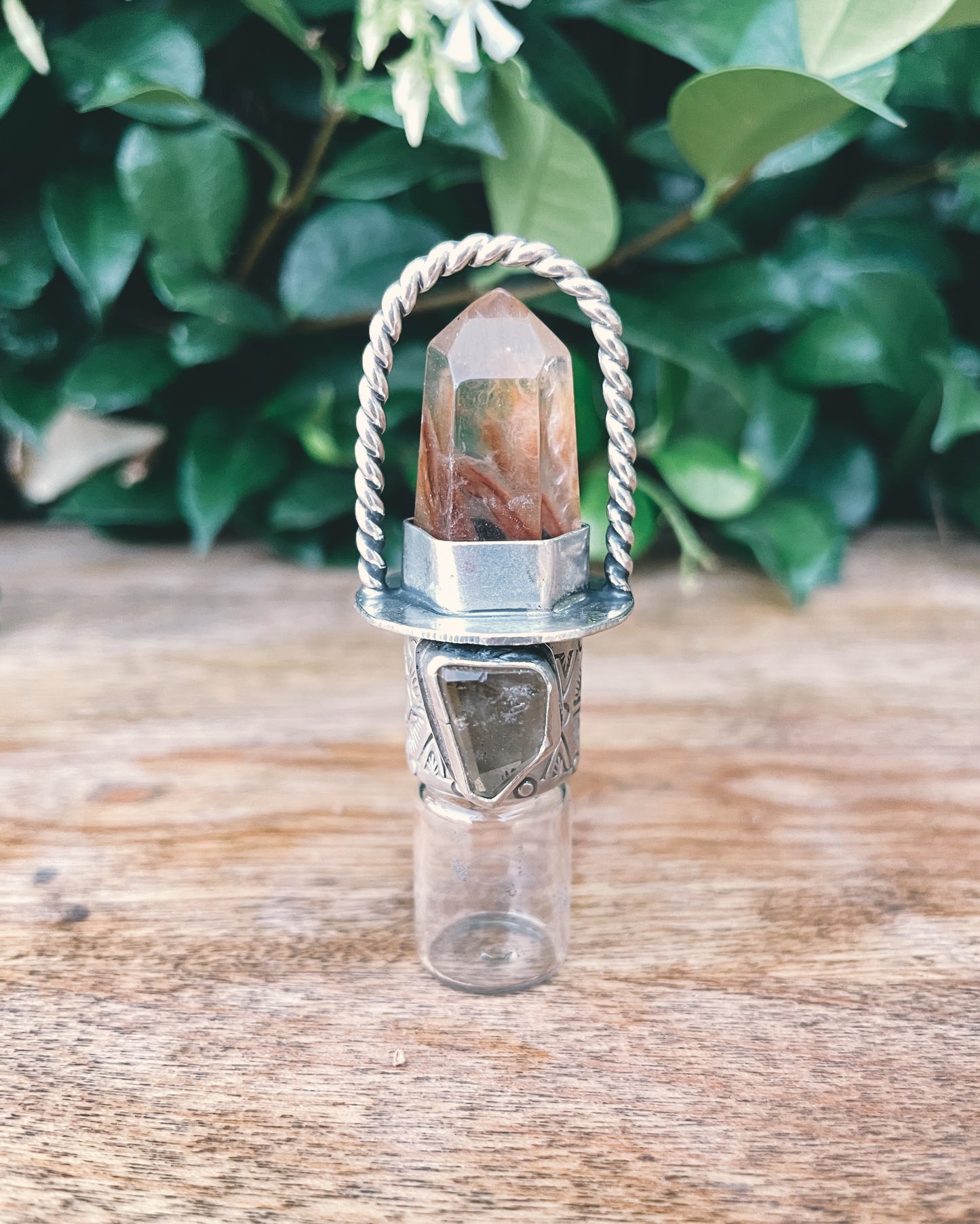 ✨AMAZING✨
I've been talking to my husband about these beautiful necklaces for over 2 years. I couldn't be happier to finally have one of these perfectly crafted pieces in my hands. Truly a work of art! 💫